When you first open the Samples page, you will see a list of all samples that have been included in your company's cupping sessions.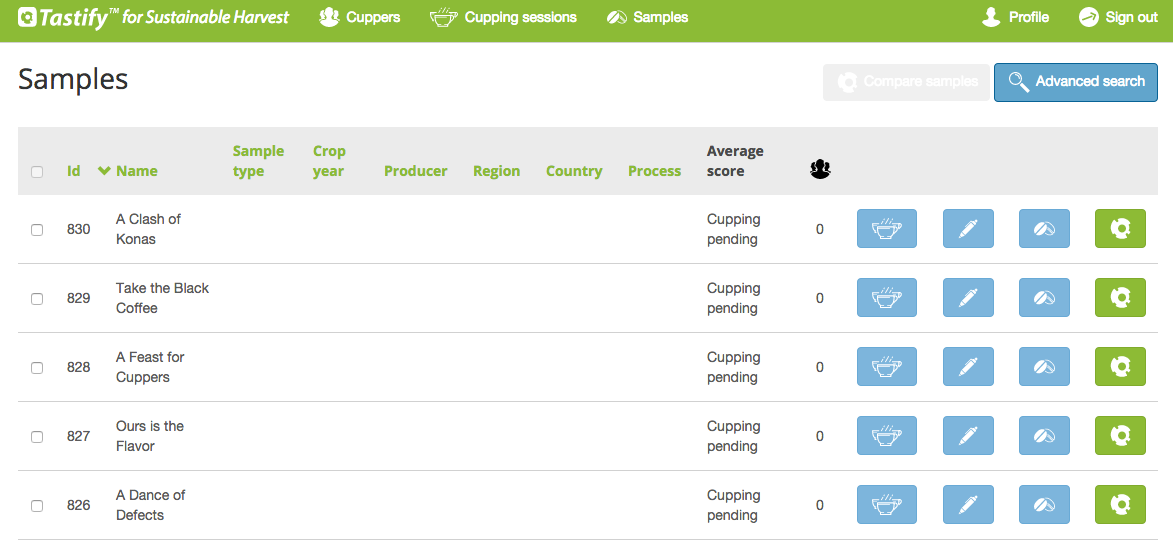 The columns shown include:
ID
Name
Sample Type
Crop Year
Producer
Region
Country Process
Average score
Number of cuppers (black cuppers icon)
Cupping session information (blue cupping icon)
Edit (blue pen icon)
Green Grading (blue coffee bean icon)
Report (green flavor wheel icon)
The average score column will show the average score awarded to that sample by all cuppers in the session. If the cupping hasn't happened yet, then the column lists "Cupping pending".
The number of cuppers column shows how many people have cupped that sample.
Clicking the blue cupping session icon brings up the sample information from that cupping session.
If you are the cupping session owner, you can click the blue pen icon to edit the sample information. For more info on this, please see the article on editing samples in this section.
Clicking on the Coffee Bean Icon will open the Green Grading page. This is where you will enter results from your Green Grading about the samples.
To run a report on the sample, you can click the green flavor wheel. For more information on the reporting, please see the article on reporting.